AAA Report Shows Drivers See Distracted Driving as Biggest Threat on Road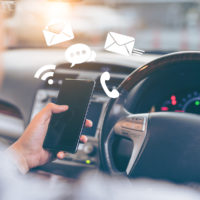 Several recent studies have shown the rise in cell phone use while driving and the increasing rates of distracted driving. Additional studies focused on the effects of distracted driving show just how dangerous a trend the rise of distracted driving has become, and how drivers perceive that threat. Read on to learn about the recent studies, and contact a skilled Poughkeepsie personal injury attorney if you've been hurt in a New York distracted driving crash.
AAA study says distracted driving is considered the most dangerous threat to driver safety
AAA's 2017 Traffic Safety Culture Index, recently released, shows that distracted driving has become the most worrisome threat to road safety. AAA surveyed drivers aged 19 years and older, asking about perceived dangers on the road.
Survey results show that more than 57% of drivers believe that talking on a phone while driving poses a very significant threat to their personal safety; 78% believe that texting is a very serious threat; and almost 88% acknowledge that distracted driving has only grown worse in the last few years. Ninety-seven percent of respondents, in fact, stated that texting or emailing while driving is at least a "somewhat serious threat," a higher percentage even than driving while intoxicated (94%). Nearly 88% of the respondents support laws against reading, typing, or sending text messages, and over 73% support banning hand-held cell phones while driving, though only 41% support banning all cell phone use (including hands-free).
Drivers are aware of the dangers but keep using their phones anyway
Study after study shows that, despite drivers being aware of the dangers posed, distracted driving (and cell phone use while driving in particular) is on the rise. Forty-five percent of AAA survey respondents admitted to reading messages while driving in the month leading up to their survey responses, and 35% admitted to sending messages while behind the wheel.
Study results in the report confirm the dangers of texting while driving: texting or other "visual-manual tasks" at least double the risk of a driver being involved in a crash. New York drivers who text and drive may be liable for accidents they cause while driving distracted.
If you or a loved one has been injured in a distracted driving accident in New York, seek experienced legal help to evaluate your potential claims by contacting the skilled and compassionate Mahopac and Poughkeepsie personal injury lawyers at the Law Office of Taran M. Provost, PLLC for a free consultation at 845-675-3243.