Woman Obtains $56 Million Award after Surgical Mistake Leaves Her Paralyzed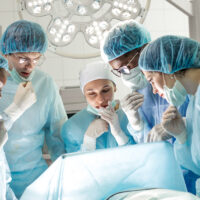 A New York jury recently awarded $56 million to a woman who was the victim of a series of physician mistakes during and after her spinal surgery. The woman, who underwent surgery after complaining of back pain and tingling in her extremities, is now paralyzed from the neck down. Learn more about the incident below, and contact an experienced Hudson Valley medical malpractice lawyer if you've been harmed by a surgical error or other medical mistake.
Surgeons ignore damage to spinal cord during surgery
Patrician Jones, of Pomona, had been experiencing severe back pain which had progressed to involve tingling in her hands, arms, and neck. Jones was 56 when her doctors recommended she undergo a spinal surgery known as a laminectomy. Neurosurgeons with the Hudson Valley Neurosurgical Associates group (now known as Hudson Valley Brain and Spine) performed the procedure that resulted in Jones' quadriplegia. During the procedure, a fragment of bone became embedded in a layer of Jones' spinal cord. The doctors performing the procedure, Dr. George Alexander Jones and Dr. Daniel Spitzer, noticed the injury to the spinal cord during the procedure. Nevertheless, the doctors continued to perform the procedure. After the surgery had concluded, the surgeons reported that no adverse events had occurred during the procedure. As Jones' attorney explained during his arguments before the jury, "On August 18th, 2009, Patricia Jones walked into Good Samaritan Hospital. What she didn't know is that those would be the last steps that she would ever take."
Jones' doctors identify a stroke while expert finds it to be a treatable hematoma
As Jones lay in a hospital bed on the day after her procedure, her blood pressure began to drop precipitously. She explained to her doctors that she was getting lethargic and had lost feeling and the ability to move her arms and legs. Doctors did not order a CAT scan to find out why Jones was experiencing these symptoms until three hours after her blood pressure began to drop, however. An independent radiologist looking at Jones' CAT scan results determined that she had experienced an epidural hematoma, which occurs when pooling blood collects and places pressure on the spinal cord. Epidural hematomas can be removed, which typically eliminates paralysis. Instead, Jones' doctors concluded that Jones had experienced a spinal stroke, for which nothing could be done.
Award offers compensation for pain, suffering, lost wages, home care, and losses to husband
The jury hearing Jones' claims against her neurosurgeons ruled in her favor, awarding her and her husband $55.9 million in damages. This award included $20 million for Jones' pain and suffering, $10 million to her husband, John, for lost services, and an additional $25.9 million in lost earnings, costs of nursing care, medication, specialized equipment, home modifications, and other costs associated with treating and caring for Jones. The jury's verdict was reduced by the amount that Jones had already received in damages from responsible parties who settled with Jones prior to trial.
If you've been the victim of a surgical mistake or other incident of medical malpractice in New York, find out if you're entitled to money damages through a personal injury lawsuit by contacting the dedicated and effective Hudson Valley medical malpractice attorneys at the Law Office of Taran M. Provost, PLLC, with offices in Mahopac and Poughkeepsie.