2015 Sees a Sharp Uptick in Roadway Fatalities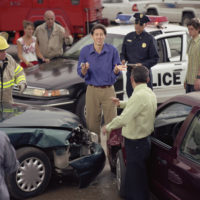 For decades, the rate of fatalities in traffic accidents has been on a steady decline, attributed to such causes as the proliferation of stiff penalties for drunk driving, speed limits, and improvements in vehicle safety. However, for the first time since 1966, the number of motor vehicle fatalities increased between 2014 and 2015.
The National Highway Traffic Safety Administration reports that its preliminary analysis of data shows that some 35,200 people were killed in motor vehicle accidents in 2015, up 7.7% from the 32,675 killed in 2014. Increases occurred across essentially all forms of accident: motorcycle fatalities increased by 8%; pedestrian fatalities increased by 10%; large truck fatalities increased by 4%; and passenger vehicle roll-over accidents increased by 5%.
At least a portion of this increased fatality rate has been attributed to improvements in US economic conditions. As the unemployment rate decreases, people generally drive more, both when commuting to work and for leisure activities facilitated by an increased income. However, data show that the number of vehicle miles traveled by Americans increased by 3.5% in 2015, meaning that there must be additional factors at play causing the increased fatality rate.
Research from the Insurance Institute for Highway Safety (IIHS) shows that a number of traffic policy decisions may be to blame for a portion of the increased fatality rate. One study conducted by the IIHS on the effects of increased speed limits shows that, in 2013, higher speed limits caused 1,900 additional deaths on the road, which canceled out the number of fatalities prevented by air bags in the same year. Additionally, the IIHS reports that red light cameras can have a substantial deterrent effect on drivers running red lights, thus preventing red-light-running collisions. The safety organization reports that, in cities that once operated red light cameras but deactivated the devices, traffic fatalities were seen to climb by 30%. In 2014, red-light-running accidents were the cause of 709 fatalities and 126,000 injuries, with the majority of those killed or injured being either the innocent driver or pedestrians.
If you've been hurt in an accident with a dangerous driver in New York, or if another driver's recklessness or negligence has taken the life of a loved one, contact the compassionate and determined Hudson Valley personal injury attorneys at the Law Office of Taran M. Provost, PLLC for a consultation on your case, at 845-675-3243, with offices conveniently located in Poughkeepsie and Mahopac.